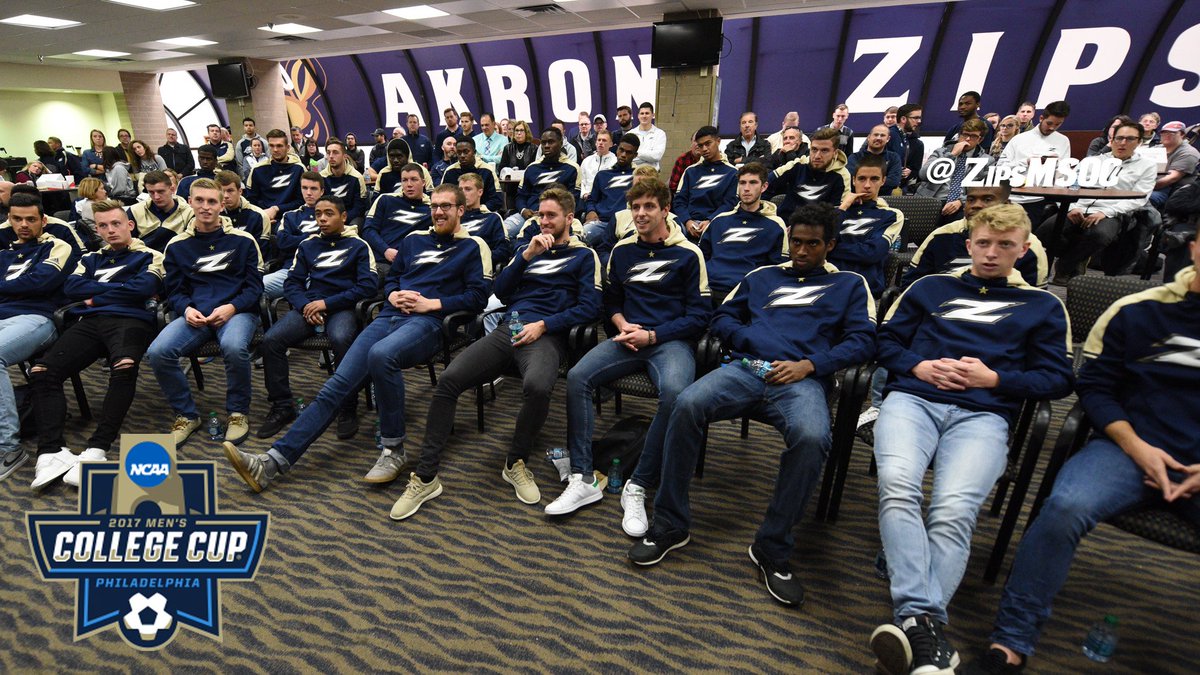 Akron men's soccer team gathered at the James A. Rhodes Arena for the NCAA Men's Soccer Championship Selection Show with students and faculty. Photo Courtesy of Akron Athletics.
The 2017 NCAA Men's Soccer Championship Selection took place Nov. 13 that featured the Mid-American Conference Champions, the University of Akron men's soccer team. The Zips earned a No. fifth national seed and will host the winner between the Washington/Seattle match in the second-round action on Sunday, Nov. 19 at Cub Cadet Field.

"You wanted a top four, you wanted the three home games but it's a really good seed," head coach Jared Embick said on the draw. "When you break down the bracket, there's a lot of familiar teams in there that we have played and done well against. If we have the chance to play them, we can take that belief into the game and use that as a motivating factor of what we can accomplish here."

Akron will make its 11th consecutive and 32nd overall tournament appearance this campaign. Akron is one of four Division I programs that have qualified for the NCAA Championships in eleven seasons, Indiana, Maryland, and Virginia.

The Zips look promising coming off their MAC Championship victory over Western Michigan. The team has won ten consecutive matches, their last loss dating back to early October against the Broncos, 1-0.

"We've all been here before," Senior forward Sam Gainford said after the selection. "I need to learn by example and we have a lot of seniors here on the team that knows what needs done."

Gainford and fellow Zip forward Stuart Holthusen have scored a total of seventeen goals this season, ten of those goals being in their last five matches.

The first round of games for the Tournament, including Seattle and Washington, will take place on Thursday, Nov. 16.
According to gozips.com, tickets are available now by calling or texting the Akron ticket office at 888-99-AKRON (25766) or visiting The C.P. and Cornelia S. Chima Athletics Ticket Office at InfoCision Stadium-Summa Field (located at 375 E. Exchange Street, near Gate 1 at the southwest corner of the venue, at the corner of E. Exchange and S. Union streets) Monday through Friday, from 9 a.m. to 5 p.m.

Season ticket holders can purchase their same seats for the NCAA games by calling our texting the ticket office.

Prices for all NCAA games are $15 for reserved, $10 for General Admission and we have a family four pack in general admission for $35.

Seven hundred and fifty free tickets will be provided to University of Akron students with a valid Zip Card (limit one per Zip Card). Tickets can be picked up at the gate on Sunday with a valid Zip Card.